June 07, 2013
Articles
Persistence in the Face of (Classroom Management) Setbacks: Teacher With-It-Ness Can Be Grown
"One thing you need to know is that they are really chatty," said the teacher's email. I'd been invited to do a demonstration lesson in a 5th grade class. Previously, I had asked the teacher about the logistics of her classroom (SMART board? yes. Popsicle sticks? yes. Rows or paired seating? chatty.).
"OK," I thought, "I guess I need to teach them my strategies." I went through my mental rolodex of classroom management acronyms, picked one and made a poster.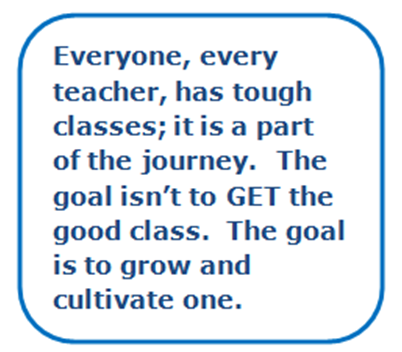 On the demonstration day, I located the 5th grade class at the assembly. The teacher smiled and waved at me, and we walked to the room along with the rest of the class. She stopped me before we all went in. "They are really bad," she quietly apologized. "Do you want me to help you?" I looked at the line of children in front of me, thinking "I wonder which of these kids is the toughest?"
I went to work: I watched how they entered the room and I made mental notes: Who had influence with his peers? Who had a desk facing AWAY from the front of the room? Who was sitting alone? Who had a Peanuts Pig Pen-style ring of trash and muck around her desk? Then I went into the room. But I didn't begin the lesson. Instead, I began connecting.
Read more