A growth mindset – the knowledge that one becomes more intelligent with effort - is being recognized more and more as something that we can cultivate in our students. If you would like some help getting started with cultivating growth mindsets by helping students learn about effective effort, this post is for you.
What Is Effort?
At the most basic level, effort means you are trying. In my experience though, students claim that they are trying, and may believe that they're trying, but they do not know what trying effectively actually looks like. To many students, trying is merely thinking about doing the work, or finding a friend (or the Internet) to get answers from. For example, there are many students who have a hard time seeing the difference between doing math and copying someone else's math, or between helping someone with a task and just giving him the answer. They think they did their homework even though they may have copied most of it from the board or from a friend. One thing I tell students is "That is like tracing a picture – you traced your homework, you didn't "do" it."
Sometimes the issue with students not really trying is a fixed mindset, and as a result when the student hits an obstacle or setback, s/he gives up easily and avoids a challenge. But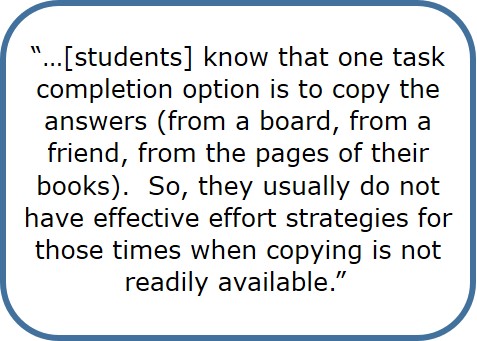 sometimes the issue is that they don't know how to try effectively, and they know that when they do try, they don't improve. They don't know how.
Effective Effort is purposeful and targetted. It's focused, and the best kind is also metacognitive. When I am really trying effectively, I am doing a LOT! I pause and quietly think. I problem-solve. I research. I tinker. I figure out what isn't working and change my strategy. I furrow my brow, and I don't stop until I figure it out. Then I feel amazing!
In this article by Annie Murphy Paul, she explains how research shows that just practicing is not enough. Deliberate practice, a purposeful kind of practice that examines and corrects errors, is needed to become great at something.
Who Needs Effort Instruction?
We can teach people how to be effectively effortful. More and more, schools are coming to understand that there is a place in our classrooms for this direct instruction and structures to support students' adoptions of effective strategies and habits. Many teachers already have found ways to provide guidance and instruction in effective effort, but oftentimes, the standards and testing are competing for that time and attention. However, if we don't support these academic mindsets and learning strategies, many students will not learn to be effective learners and will become adults who continue to struggle with difficult tasks.
Mindset Works® consultant, Jennifer Maichin, an educator in Mineola, NY says this, "We tell students to study, but do we teach them how?" She says that students tend to think of studying as "I am staring at my book. Now I am staring at it hard. Now I am staring at my homework paper." They spend much of their homework time thinking about how frustrated they are, and doing more of what's not working, instead of engaging actively with the task. Part of this cycle is because so many of them know that one task completion option is to copy the answers (from a board, from a friend, from the pages of their books). So, they usually do not have effective effort strategies for those times when copying is not readily available.
Maichin says, to find out if kids have learning strategies, watch to see what they do when they don't know what to do. If students are giving up, choosing easy or superficial responses, or resorting to copying, then you know that they simply don't have the strategies and the drive to achieve on their own. They might not realize how great it feels to discover answers and learn through effort.
Getting Started: Strategies to Teach Effective Effort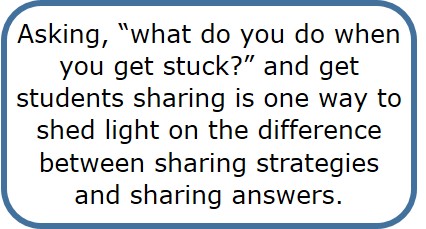 First, we have to define what effective effort is and suggest to learners how amazing it feels to use it to achieve something for yourself. Second, we have to be persistent and effortful ourselves in cultivating these learning strategies in our students. What follows are two strategies you can use this Fall to get started!
-Mindset Works® Effective Effort Rubric
The Mindset Works Effective Effort Rubric is a terrific place to begin the conversation with students. The rubric places effort in the context of a growth mindset. Presenting it to a learner, a teacher can ask, "When you are trying, which of these things are you doing? Highlight in each box what trying "looks like" for you."
One can also use the rubric with families who are struggling to help their children finish homework and work on long-term tasks. Parents can see how to communicate the message that challenges are exciting, mistakes tell us what to improve in, and set backs are all a normal part of learning anything new.
The rubric is also a tool for setting growth goals. Students can revisit the rubric to identify a row in which they would like to improve and use the rubric over time to revisit and reflect on their progress (and what the results of their progress has been). This video of a middle schooler, "Andy" reflecting on his effort shows us what a student reflection can sound like!
As you get further into using the rubric, the class can begin to discuss the "Strategies" row to share and acquire new strategies that work for them. Asking, "what do you do when you get stuck?" and get students sharing is one way to shed light on the difference between sharing strategies and sharing answers. The first is a recipe for success, the latter is, well, tracing!
-Growth Mindset Language and Messages
Educators can have an enormous influence on students' motivation just by the messages we send. The best place to begin your growth mindset classroom transformation is in the language you use with students to communicate about taking on challenges and working persistently to learn new concepts and skills.
These growth minded feedback and framing tools are here to help educators see examples of how we can adjust our messages so that we are cultivating growth mindsets. When students are not being "effectively effortful," these are the responses that can coach them back on the right track. At the same time, posting growth minded posters and messages like these provides a constant reminder of what effective learners do. Other messages about paying attention to and learning from errors, about learning from and being inspired by successful peers, and about setting stretch goals can also be very effective in helping young people see how great it feels to accomplish something difficult.
Here is one example of a short commercial with Michael Jordan called, "Maybe It's My Fault." This video is a terrific springboard for beginning a conversation about how much effort and time go into becoming great at something!
What do you do to encourage students to take on challenges and use effective effort? Comment below or enter our next Growth Minded Educator contest for a chance to win some posters for your classroom!
About Emily Diehl
Emily Diehl is Director of Professional Learning for Mindset Works. She works with K-12 educators, school leaders, and parents in helping to develop agency and life-long learning. She has contributed many lessons and experience to Mindset Works' programs. You can reach her on Twitter @EmilyADiehl