Positive Behavior Interventions and Supports (PBIS) is a data driven decision making process to ensure schools educate the whole child. PBIS is an instructional approach to behavior that teaches students the soft skills of achievement such as persistence, respect, responsibility or other non cognitive skills. This emphasis on teaching student behavior can be a tool for schools to ensure students understand the importance effort in their learning and to grow student agency.
The PBIS framework and growth mindset programs go hand in hand. PBIS is based on the recognition that kids come to school with a range of needs and skills beyond academic skills. This framework empowers schools to identify their values and priorities in order to teach students the behaviors and social-emotional skills that will lead to greater academic success. PBIS is not a curriculum - rather it is a process that helps schools organize and coordinate nonacademic supports to make sure they educate the whole child. This framework aims to provide supports to students ranging from school-wide to individualized supports, depending on student need. The success of this framework has greatly improved the climate and behavior at schools across the country, with now over 20,000 schools implementing.
One criticism of the PBIS framework is a perceived focus on controlling students and preventing misbehavior.
While many schools may use the PBIS framework to improve their discipline practices this is not the intention. PBIS is focused on empowering students, by improving their ability to get their needs met. This is done by explicitly teaching the behaviors necessary for greater academic and social success. As the mindset research has clearly shown one such skill is understanding the role of effort or persistence in learning. A high functioning PBIS school will focus more defining, teaching, reinforcing and monitoring those behaviors that empower students rather than focus on controlling students.
The PBIS framework for teaching students constructive behavior that will lead to success aligns with the goals of a growth mindset program. Both programs seek to empower students, to grow their individual sense of agency or efficacy. They both focus on the child's actions rather than their talents, intelligence or fixed traits. Through the PBIS process, schools can prioritize growth mindset traits, such as persistence, hard work or resilience, and ensure these behavior are taught, measured, monitored and reinforced. In short, PBIS can ensure that teaching students a learner mindset is a constant part of staff conversations. Additionally, teaching a learning mindset is a powerful intervention for targeted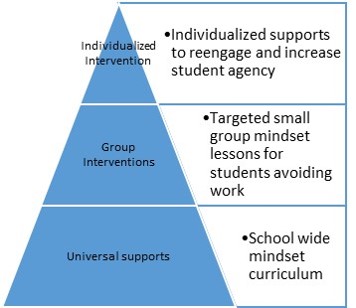 students that display a lack of engagement and avoid academic work. Incorporating the growth mindset into a PBIS framework would empower schools to ensure all students are receiving instruction on the importance of effort and ensure that targeted groups of students received additional support and guidance, based on their need. As the graphic shows PBIS is based on a tiered system of supports. Aspects of mindset curriculum have value at each of the tiers.
If a school were to adopt the ideal of "persistence" into their PBIS framework this could be an umbrella term used to incorporate the learner mindset into the school culture. By adopting this focus, the PBIS team focus may shift from controlling students to teaching achievement oriented behaviors. A PBIS school would seek to ensure all students clearly understand what persistence "looks" and "sounds" like throughout the school day and across settings. The school would dedicate time to directly teaching these expectations to students throughout the school year. They would also ensure there is a plan in place to recognize and publicize examples of persistence in the classroom, as well as, school wide. Staff would also work to develop targeted interventions for those students that are struggling to demonstrate the behaviors associated with persistence. Additionally, data measures to progress monitor individual and school wide persistence would be adopted. Finally, because a PBIS school views student behavior as a fundamental priority there is a leadership team in place that meets regularly. This ensures a longitudinal focus on persistence. In the long run this can make teaching the learner mindset a part of the school culture rather than a curriculum that was tried then fell by the wayside.
Both PBIS and the learner mindset focus on individual action rather than focusing on environmental or fixed traits such as genetics, intelligence or temperament. PBIS focuses on teaching pro-social behaviors. The mindset curriculum focuses on building student agency, or the capacity of the child to take action to impact their future. This shared focus on helping children understand the role they play in their achievement can allow the two programs to build on each other. The mindset curriculum can ensure schools focus on empowering students not just making sure they follow directions and don't get suspended. The PBIS framework can ensure a comprehensive incorporation of the "learner" mindset throughout the school.
About the author
Dustin Bindreiff has trained and coached over sixty-five schools to implement PBIS across the west coast. He began his educational career as a instructional aid, later created a nonprofit mentoring program, then taught middle school and special education before becoming a behavior specialist and PBIS coach.