Music Director, Julie Ahlborn is putting growth mindset into action!
At Reagan Academy middle school in Springville, UT, her students enter her orchestra class with only a cursory knowledge of sight reading music. She wanted them to see how much they grow in one year so that they will be motivated to continue their music studies, becoming lifelong musicians.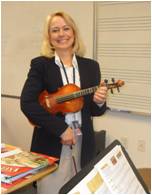 Julie says, "To play a musical instrument takes a lot of practice for muscle and mind memory to grow and develop. Many people find practicing a challenging task." Julie blends growth mindset research with her teaching practices fluidly to cultivate a growth mindset in orchestra and motivate students to practice. And she creates videos (below) to document the students' growth! How does she do this?
Here are a few things she described to us...
Begin with the end in mind.
At the beginning of the year I tell students I am going to give them a gift. I give them a written theory assessment and sight-reading playing test. I give them this test at the beginning of the year knowing that most likely they will struggle and fail because this test is everything they should know in orchestra by the end of their 8th grade year. I tell them I don't grade them on this test because it is for them to learn from. I want them to see where they are now and where they can be in 9 months or 18 months. I give them their same test back at the end of the year and have them fill in the parts of the test they didn't answer and correct any questions they got wrong with a different colored pen. I also have them sight-read a piece they will learn at the end of the year at the back of the book. I video each individual student playing this piece. Many can hardly play it. When I have them play it at the end of the year it is easy for them and they play it with ease. Again, I don't do this to make them feel like failures but to prove a point at the end of the year. I want them to see how much they have learned and that hard work and practice pay off! I ask them what is going to happen between now (the beginning of the year) and when they do this test at the end of the year. I point out "A lot of hard work and practice!"
Goal-setting
I give students an essay assignment with thought questions about practicing and how they feel about it. At the bottom of the paper I have them write their instrumental practice goals and I review these with the student and their parent at Parent Teacher Conference to see how it is going.
Expert Modeling
I model in class ways they can practice. Instead of just playing a passage over and over again, we will play a difficult passage 3 different ways – changing the rhythm a little, slowing down, listening to a recorded or video example of the passage etc. The students are also invited to share ways they practice at home. I've had some very creative, impressive ideas brought up and modeled by students that I've learned from. I point out that these are different ways they can practice on their own.
On-Going Coaching with Follow Up
I give my classes a daily reminder the last 5 minutes of class to write down what they need to practice. Whatever we were playing that day that was hard for them, they are supposed to write down and go home and practice. Then I pull out what they wrote down a few days later and challenge them to play what they have practiced for the class. We clap and celebrate for each other what they have mastered.
It is really incredible to watch these students grow from haltingly playing these songs to really performing them well by the end of the year. What is it like to show students these videos?
"There is a priceless look on their faces when they see the videos. They all seem so amazed that they could improve so much because they don't notice it throughout the year. With a look of wonder they say things like, "I remember how hard it was to play Terra Nova at the beginning of the year and now it is so easy!" That's when your words turn golden and you tell them, "See what happens with a lot of hard work and practice?!"
Thanks for the inspiration Julie! Watch the amazing "before and after" videos here:
About Mindset Works
Mindset Works was co-founded by one of the world's leading researchers in the field of motivation, Stanford University professor Carol S. Dweck, Ph.D. and K-12 mindset expert Lisa S. Blackwell, Ph.D. The Company translates psychological research into practical products and services to help students and educators increase their motivation and achievement.
Mindset Works and Brainology are registered trademarks of Mindset Works, Inc.