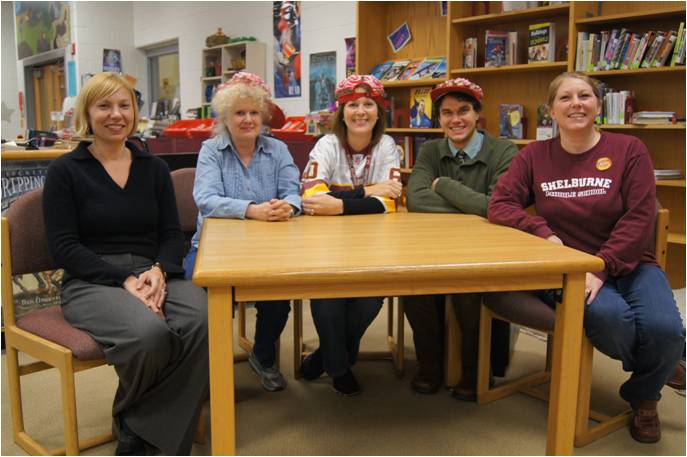 We are Shelburne Middle School in Staunton, Virginia, and we implemented the Brainology program with our entire 6th grade. The challenge we were looking to address with Brainology was the fixed mindset with which too many students enter 6th grade. It's tragic that by the tender age of 11, many have decided that past failures have locked them into a life of continuous failure and limited success in school. We hoped that this program would help to change that. We also wanted our 6th graders to have a more positive outlook that would help them in the rest of their educational careers, as well as in their social, physical, and emotional development. We were excited to see that it would support what we had previously been trying to teach our students about the importance of effort, how the brain works, and what constitutes good study habits. We loved the fact that Brainology educated our students about how the brain is an organ that can grow, and that intelligence is not fixed.
We started the program by giving each 6th grade teacher a copy of the book, Mindset, to read and then had a book study on it. Next, we had those same language arts, math, history, and science teachers, not to mention an art & technology teacher and a differentiation specialist, work with small groups of students in their classrooms. The class sizes ranged from 11-15 students. Due to our school schedule, we were able to do Brainology once a week for 45 min. We also had the students create their own paper journals to use. The students seemed to enjoy it and learned a lot from the experience. We did a lot of discussion and we used a lot of the supplemental worksheets that were provided with the program.
We wanted to be sure that all of our students were getting equal exposure to the program. So we had a group of five teachers who mapped out which lessons we would do each week, and then they shared this information with the other teachers at our weekly grade-level meeting. This time was also a chance for everyone to give suggestions, ask questions, and discuss how we thought things were going and what each of us was doing to support the growth mindset in our classrooms.
We used the program in our first block Advisory classes and incorporated the concepts in the core classes that we teach. Before the students took any of our assessments, we encouraged them to do "square breathing," to get themselves relaxed and "in a good place." We often had the students write down their insecurities about the material they were covering in each class and those "I don't know statements" were turned into "What do I have to do to find out" statements. We also had long talks about ways to review and practice that might help information find its way into their long term memory.
Our teachers worked on changing the ways they praised and encouraged students. Rather than focusing on the grade they received on their paper, they focused on the time and effort the children were putting into their work. In parent conferences, parents were encouraged to do the same. While it's a difficult task and change will take a long time, we tried to encourage parents to celebrate the "B" or "C" their child got for the first time as evidence that he/she was actually being challenged and was learning something.
Brainology certainly made our students aware of a different, more positive, mindset. Unfortunately, changing mindsets is a process and our students needed constant reminding and coaching. They have focused on the letter or number grade for so many years that it's hard for them to make the switch and focus instead on the amount of time and effort they put into their work; however, we believe that this can surely happen given more time. This is evidenced by the fact that we did have more of our 6th graders take the initiative to review material that they didn't understand and/or redo the assignment or test, rather than settling for an average grade that resulted from poor effort and preparation. After seeing how much this additional effort improved the quality of their work, they expressed how good it felt. For some, it was the first time in a long time that they felt pride in their work. That small taste of success after having so many failures really helped to boost their self confidence. This experience also helped them believe that maybe Brainology was onto something and their brains really could grow!
Our 6th graders definitely liked the program and they made regular comments such as, "It helped me do better on my tests!" Or, "Brainology helped me learn about parts of the brain and how it stores information." We believe that it was meaningful to them because it taught them in both visual and "hands on" ways. Some students said, "It gave us more strategies so we could do better on tests." "It was very helpful to me when I was taking tests because if I got stuck on a question I learned how to calm down and not stress over it." "It was helpful learning about which parts of the brain controlled my thinking and emotions." Many students asked to do Brainology even on days when we couldn't due to our school schedule.
Our society faces many challenges that cause the children of today to build walls around themselves that lock them in a fixed mindset and limit them from reaching their full potential. Brainology is a fun and interesting way for students to learn why and how they can break down these walls to utilize their full potential and achieve their dreams.
Creating a growth mindset in everyone that walks the halls of Shelburne Middle School is our dream. We envision a school that encourages self-efficacy and effort in all that we do. One full of students and adults who are positive and independent lifelong learners. One full of people, young and old, who take pride in their work, embrace that which is rigorous, and celebrate their successes, however small. It will take time, and we may never fully get there, but we are dedicated to giving it our greatest effort. We intend to "grow it" into our other two grades and hope that by the time our students leave us as 8th graders, they have a thorough understanding of how their brains work and a deep belief that their brains can grow, making anything possible.
Carla Van Devander has been a Differentiation Specialist with Staunton City schools at the elementary, middle, and now middle and high school level for the past 6 years. She often assists the city's alternative school and recently became a teaching partner at Mary Baldwin College. Mrs. Van Devander has also taught middle school social studies in Augusta County.