This article is dedicated to educators of the world who need encouragement. Its purpose is to help teachers keep the joy and magic alive in teaching. It will provide necessary tools to avoid compassion-fatigue, strengthen emotional intelligence and build resiliency. A happier teacher is going to be far better able to nurture, educate and help students. As a fellow educator it is my hope that the words of this article jump off the page and into your hearts.
To be the best at our jobs, we must care for ourselves before we can care for our students. It isn't the day-to-day load that weighs us down, it is how we carry and manage it. If our general outlook upon life and moods are not at their best, we will be less effective with students. We must learn to excel in eagerness, inner strength and optimism.
The demands placed on today's teachers are much more varied and difficult than ever before in history. There will be days when we feel like shark bait ready to be gobbled up by a school of hungry, seething predators. There will be times when we truly wonder why we ever went into this wacky profession... "How soon does the next plane leave for Siberia?"
Teaching can be an exhausting choice of career which can lead to mental, physical and emotional burn-out. Being a teacher is not for the meek or weak. It takes courage, stamina, quick decision-making skills, acute timing and extreme patience. We must be able to plan lessons, correct papers, give assessments, attend continual professional development, manage behavior, be technologically literate, stay current in the newest theories, implement the Common Core Standards and help students develop the right mindsets. What about the teacher's mindset? How do we keep the passion alive under these challenging circumstances? If we think of our mindsets and EQ skills as a garden and become willing to nurture and cultivate it we will experience a beautiful and bountiful harvest.
Also, we can take the Emotional Intelligence (EQ) prescription along with a daily spoonful of optimism. What does an EQ prescription look like? When life's devastating storms pop-up, how do we create an EQ raincoat which is accessible and easy to slip on? Knowing ourselves intimately by identifying our emotions, recognizing personal strengths, triggers, and what action to take in case of emotional emergencies is a good place to begin. When taking our EQ prescriptions and (in case of emotional down pours grabbing our raincoats) we will begin to understand how to manage our affairs with confidence, ease, grace and dignity. As a result, we will be able to manage feelings, reduce stress, set healthy boundaries and strengthen resiliency. We will receive the grandest of gifts ‒ intrinsic motivation, deeper empathy, a sense of purpose, gratitude and optimism.
What does a daily spoonful of optimism look like? It means doing something nice for ourselves as well as another person each and every day. It means staying replenished mentally, physically, and emotionally which results in a sense of well-being. A spoonful of optimism can be reading an inspirational quote, talking to a trusted friend, having a fabulous dinner, practicing an attitude of gratitude, or indulging in a "music bath", (this is where we put on our favorite music and submerge our hearts and minds in song).
To solidify our daily dose of optimism it is imperative to develop our emotional intelligence skills. A powerful and exemplary model is the wheel created by 6 Seconds to Emotional Intelligence. (The Six Seconds EQ Model," 2011).
This wheel consists of three pursuits which are our foundation. The first step is: "Know Yourself". This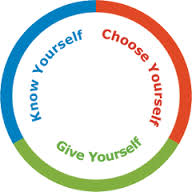 simply means observing our feelings and reactions. By getting off autopilot and remembering that we are human beings rather than human doings. The second step is "Choose Yourself" which states instead of reacting, giving ourselves 6 seconds to de-escalate and evaluate our options. The third step is "Give Yourself". When we remember what is truly important to us and consider others we can move forward in our lives. We have personal power to choose our thoughts and feelings and pursue our noble goals. (A noble goal is something that is selfless and will help others). When we whole-heartedly give of ourselves, the joy and happiness will come gushing into our lives.
By practicing the three pursuits of the EQ wheel (know yourself, choose yourself and give yourself) these pursuits will expand into eight dynamic competencies which will guide us into becoming happier and healthier people.
When we truly "Know Ourselves" we will be able to enhance our emotional literacy, recognize patterns and acknowledge our behaviors. Secondly, when we "Choose Ourselves", this is not a selfish act but mandatory to become a more contented teacher. When we "Choose Ourselves" we will be able to evaluate the costs and benefits of our choices and assess, harness and transform our emotions as strategic resources. For example, as a child I became angry and frustrated in my math classes. If I had practiced emotional intelligence, I would have been able to acknowledge my anger, take action to defuse the frustration and conquer math! As a result, I would have persevered, (increased my intrinsic motivation) and the end result would have been "Optimism".
By practicing emotional intelligence my life has changed immensely. I have been able to get rid of emotional distress and shut down my noisy mind. I can blend my thinking and emotions together to make optimal decisions. Once we know how we are feeling and are able to navigate our emotions, we are then in a position to give ourselves 100%. We will increase our empathy and connect our daily choices with a sense of deep purpose.
Reader's thoughts: How would you use an EQ prescription? What personal situations warrant an EQ raincoat? What does your daily spoonful of optimism look like?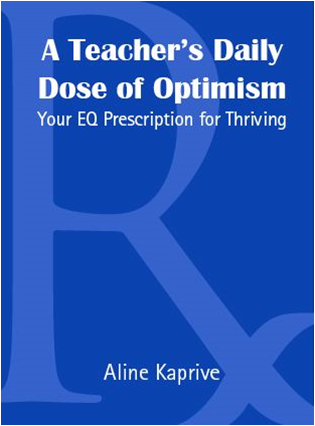 About Aline Kaprieve
My name is Aline Kaprive and I am very proud to share with you that I am a special education teacher working at the Youth Services Center, otherwise known as the county juvenile detention facility. This is definitely not your average classroom setting. I instruct at-risk students with special needs such as learning disabilities, emotional traumas, and attention deficit disorders. To make the job a little more unique, many of my students have behavior problems, countless felonies and misdemeanors, and an overall aversion to school. After fifteen years, I still enjoy my job and put my heart and soul into teaching. What helps me with my students is that I have overcome many painful obstacles and have risen out of the ashes of a broken life. Through great pain and turmoil, I have gained the grandest of gifts - resiliency, humility, unconditional love, empathy, compassion, wisdom, and emotional intelligence. Along my rocky path, I earned three teaching credentials, a bachelor's degree, and a Masters in Education with an emphasis in curriculum and was also the recipient of the academic excellence award from Notre Dame de Namur University. This shows that no matter how tough life gets, one still can rise up and move forward. To order "A Teacher's Daily Dose of Optimism: Your EQ Prescription for Thriving" go to: http://www.amazon.com/Teachers-Daily-Dose-Optimism-Prescription/dp/1484817486