March 08, 2015
Mindset in Action
Watch Growth Minded Middle School-ers in Action!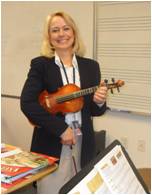 Watch Video of Growth Mindset Middle School-ers in Action!
Music Director, Julie Ahlborn is putting growth mindset into action!
At Reagan Academy middle school in Springville, UT, her students enter her orchestra class with only a cursory knowledge of sight reading music. She wanted them to see how much they grow in one year so that they will be motivated to continue their music studies, becoming lifelong musicians.
Julie says, "To play a musical instrument takes a lot of practice for muscle and mind memory to grow and develop. Many people find practicing a challenging task." Julie blends growth mindset research with her teaching practices fluidly to cultivate a growth mindset in orchestra and motivate students to practice. And she creates videos (below) to document the students' growth! How does she do this?
Here are a few things she described to us...
Read more