September 28, 2013
Articles
Nurturing a Growth Mindset in Early Learners: Part II
In the last issue, I explored two child development and early learning milestones which provide an opportunity to nurture a growth mindset in early learners. In the following article I will explore two more: inquiry and school readiness.
III. Inquiry (Wonders and Questions)
As children interact with their environment, they are continuously engaged in inquiry,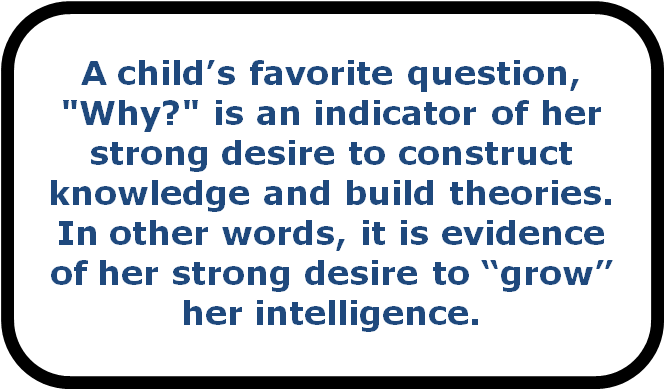 construction of knowledge, and theory building. The process of theory building itself is a very growth mindset oriented process in that it is "full of error, conflict, and contradiction" (Chaille, 2003). There is a natural connection between children as theory builders and children as having a growth mindset. A child's favorite question "Why?" is an indicator of their strong desire to construct knowledge and build theories. In other words, it is evidence of their strong desire to "grow" their knowledge and intelligence (GM).

Within this GM opportunity, we can nurture a child's GM by (a) encouraging their wonder and questions and (b) facilitating opportunities for them to construct knowledge and build theories through the inquiry process:
1. Active observation and interaction with the environment (wonder)
2. Question asking
3. Investigation and experimentation
4. Development of conclusions
Read more