December 11, 2013
News
Announcement to All Brainology Users: Edition 2 of the Brainology Curriculum and Implementation Guides Available Now!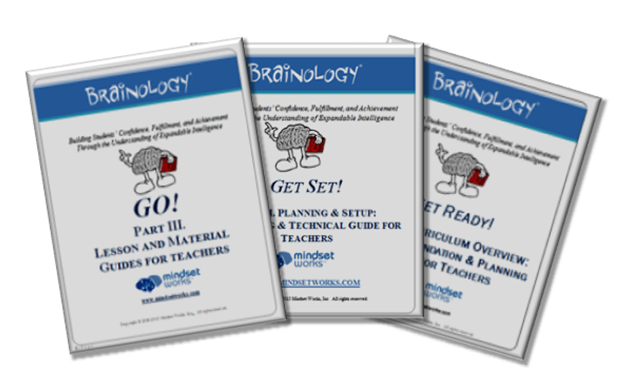 We are so excited to share these new guides with our customers! These guides feature new lessons based on the most recent research about motivating adolescents and helping them develop a growth mindset. Many tasks were revised to align with the Common Core State Standards so that teachers and students can use Brainology classroom time to continue their practice in these important speaking and listening, reading, and writing skills. Finally, each unit in Brainology has specific recommendations for differentiation (based on Carol Ann Tomlinson's work) and scaffolding instructions so that all students can access the material and progress successfully through the program. You'll find the updated curriculum and guides under My Resources.
For more information about the Brainology® program, click here to view an excerpt on our website.
Thank you,
The Mindset Works Team
About Mindset Works
Mindset Works was co-founded by one of the world's leading researchers in the field of motivation, Stanford University professor Carol S. Dweck, Ph.D. and K-12 mindset expert Lisa S. Blackwell, Ph.D. The Company translates psychological research into practical products and services to help students and educators increase their motivation and achievement. For more information, visit http://www.mindsetworks.com.
Read more